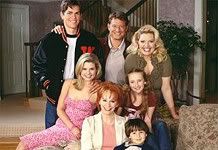 Please mark today on your calendar. It is a sad day. I am officially in mourning. My second favorite show. "Reba", was cancelled today. It would be nice if another network would realize the value of this program and pick it up. I am still in mourning until an undetermined time.......I will probably have to consult my personal physician....
I guess it was my dark mood that caused me to lose my mind today. I made a quick run to Wally World and passing the beauty aisle, I remembered something that had crossed my mind earlier in the day. You see, I am not as young as most of you think. HeHeHeHe And as some of you know (and some of you are already experiencing), as a woman gets to a certain age, sometimes a few dark hairs start to grow on the face where it shouldn't. Now I have been using my tweezers religiously. But somehow some of the "dark hairs" only appear when I am in the car and catch a glimpse of my, lets just say, space between nose and lip. It is shocking. Well, I decided that I would try waxing it. Now I have never waxed anything before. And I mean anything. So I really didn't know what to expect, but I figured people do it all the time so why can't I. I should have heard the warning bell or saw the little red light go on. That is my problem..........I NEED BIG SIGNS! It really was not as painful as I had imagined. I can probably manage to have it done again. I just hope the skin on right side of my lip grows back before the party for Jamie and Lesley.....And the hickey by my right eyebrow goes away.......I kind of feel like I have been in an accident....of STUPIDITY!!!!!!!!!!
Dick will be coming in from Memphis around 11:30 tonight. I will be glad to have him home. He hates traveling so I know the feeling is mutual.
Talk to you tomorrow.....Tootles!